Engagement Photos In Iceland
Michael proposed to me on November 29, 2015. We followed that with engagement photos taken in Iceland August, 2016. We chose Iceland for our engagement photo shoot for several different reasons:
1- We thought that we would secretly elope first before having a formal Canadian ceremony; however, naïvely, neither one of us realized the amount of paperwork that needed to be done before we left so we decided that an engagement photo shoot would be a great way to make our trip extra special!
2- Michael and I wanted our engagement photos to be a little unconventional and different from the norm. Iceland is without a doubt one of the most rugged and breathtaking countries that I have ever been to. We thought that having Iceland's dramatic landscape as the background of our engagement photos would help tell a tale of both love and adventure.
3- Neither Michael nor I had been to Iceland before but Michael's ancestry can be traced back to the Vikings. Iceland is a Nordic country so we thought it would be really cool to explore some of the historical roots from his father's side. Furthermore, as someone with a passion for healthy traveling, I was drawn to this country for its amazing reputation for hydrotherapy (my favourite!!). We spent 10 days soaking in beautifully preserved hot springs, cold springs, and hiking through the mountains. (side note - If you ever consider visiting Iceland, the country of fire and ice, please do so with a gentle foot and be aware of your environmental impact as this is a country that does everything it can to preserve its wildness and integrity.)
By complete coincidence I found one of Iceland's most renowned photographers and we spent the day touring through glaciers, mountains, volcanoes, beaches, and flat lands with the very talented Jon Gudmundsson. It was an extraordinary experience touring through Iceland's gorgeous vistas and we had the added benefit of getting a private tour with our photographer who is a local Icelander.
Homemade video of our 10 days in Iceland:
Our engagement photo gallery: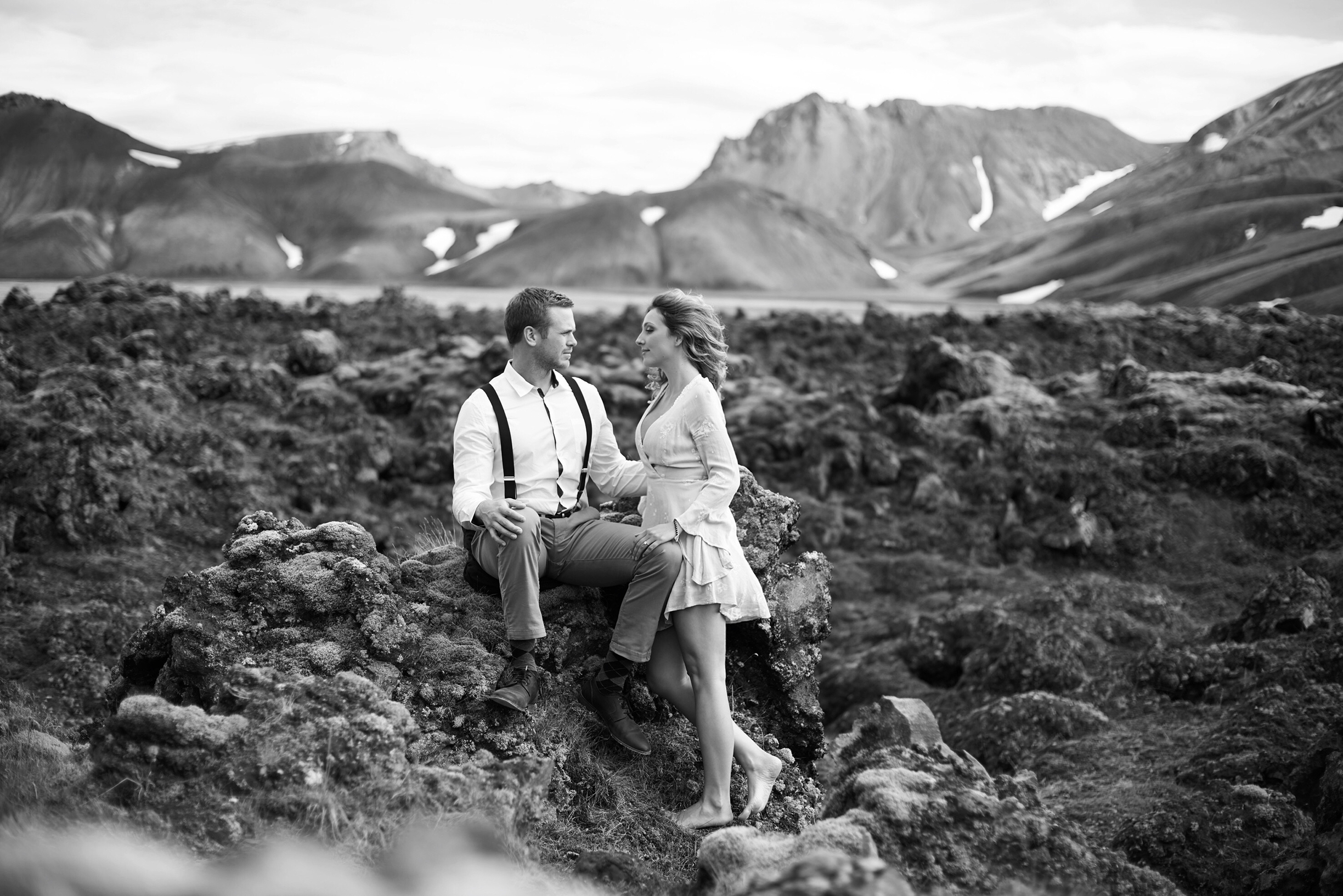 Iceland will forever hold a special place in my heart. It was an honour traveling to this magical island country and doing it for the first time with my fiancé. Iceland for me will be remembered as a special trip for so many different reasons. It was the first time that Michael and I traveled and lived out of a car for 4 days together in a little Suzuki that he was literally too big for. He wasn't able to stretch his legs out for 3 consecutive nights haha. It was spontaneous because we toured around the golden circle with no schedule or agenda. Everything we did was on a whim and as a result we created the best and most unexpected memories. We went sea angling, whale watching, hot spring hopping, ate authentic Icelandic cuisine, swam in the ocean, made friends with some locals, and hiked day and night (because you can do that when the sun doesn't set in August). Lastly, taking our engagement photos with the beautiful Icelandic landscape in the background is so special as it marks the beginning of our lives together; full of adventure and love.
xoxo
Sending love & light,
Lisa Marie Holmes
Follow me on my social media platforms for more fun, loving, healthy lifestyle stories and insight!
Instagram: lisa.marie.holmes
Facebook: Lisa Marie Holmes